Which chances offers the internet?

Always well advised.

The analysis of the actual state always comes first.
We investigate the trade field, target groups and already existing marketing activities. We are also interested in the internal workflow processes and the internet know how of your employees.
We always orientate at several questions in order to develop an online marketing strategy: Which chances offer the new medias your company? How can your web service distinguish from the activities of your business competition? How can customer loyalty be increased with the help of the internet? Can the internal workflow be improved over online media? This basic approach provides a reasonable use of the internet and leads to a winning strategy.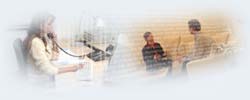 - online marketing strategies
- CI/CD for print and online
- development of interactive


customer loyalty strategies